Hedy + Peter Goes West

read blog
barbarico.com
... 794 entries
sailng on windwanderer.
... 630 entries
sejlerliv
... 604 entries
met gidsie op stap.....
... 517 entries
comers corner
... 495 entries
debbie does...round the w
... 426 entries

Another Idiot Abroad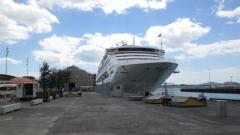 Not liking all this white stuff coming from the sky and the chilly winds. the pyjamas and fleece should be long gone by now. high time for a little trip away. too late now to go south for some winter sun, the antipodeans...
read blog
samandlucytravels
... 2 minutes ago
eutikia ... festina lente
... 2 minutes ago
mary & peter's usa 2017
... 4 minutes ago
chris & laurie - moonrake
... 6 minutes ago
aderyn glas cruises
... 7 minutes ago
our grey nomad adventures
... 8 minutes ago

Search for a friends blog, or find out what a real traveller has already written about a destination that you're planning to visit.